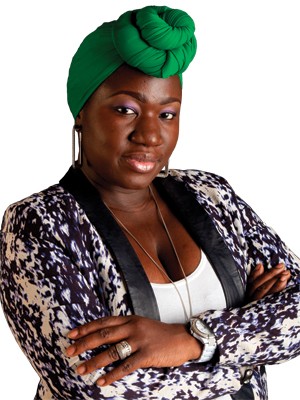 Korto Momolu-Briggs
Owner, Designer, Stylist
KortoMomolu.com
Little Rock
Age: 39
Korto Momolu-Briggs
Korto Momolu-Briggs has thrived by making virtues out of necessities.
Creative and artistic, she was unable to find a job that both supported and fulfilled her, so she became an entrepreneur, the force behind fashion design firm KortoMomolu.com.
A native of Liberia, Korto Momolu-Briggs (her website incorporates the phonetic spelling of her given name: Cut-toe Mo-mo-lu) began showing clothes in Little Rock a decade ago. She gained national visibility as the second-place finisher in the fifth season of reality TV show "Project Runway," and New York magazine put her on its list of designers to watch.
Momolu went on to design the uniforms for Crystal Bridges Museum of American Art, a line of handbags and jewelry for Dillard's and a jewelry line for the Smithsonian Museum stores.
Momolu-Briggs' parents, who studied for their graduate degrees in the U.S., prospered in Liberia, but war forced the family to emigrate to the United States. "When you've had money and you've lost money, you get to a place where you realize what the important things in life are," Momolu-Briggs said.
Educated in Canada, she wound up in Little Rock through the man who became her husband. Now a mother of two, she has traveled the world but realized that "people here really support me and love me … . This is home for me."

Most Read