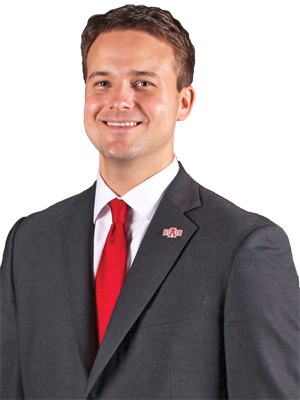 Jason Penry
Vice Chancellor for University Advancement
Arkansas State University
Jonesboro
Age: 36
Jason Penry
Jason Penry has always believed in the power of education. "I think it's the great equalizer," said Penry, who joined Arkansas State University in Jonesboro as chief of staff in September 2012.
He was quickly promoted to vice chancellor for university advancement in July 2013, where he oversees fundraising and alumni and media relations for the college. He also is the project leader for the development of an osteopathic medical school at the Jonesboro campus.
The medical school, which is on track to open in 2016, "has the opportunity to transform the state," Penry said. "This is a defining period for Arkansas State."
Penry supervises about 35 people, and his management philosophy is to work hard and treat others right.
He also said his division needs to be as productive and efficient as possible to make sure that the more than 13,000 students at Arkansas State are "getting a quality education at a good cost."
The Texas native holds a doctorate in higher education administration, which he received from Texas A&M University at College Station in 2008.
Away from Arkansas State, Penry volunteers at the Food Bank of Northeast Arkansas.