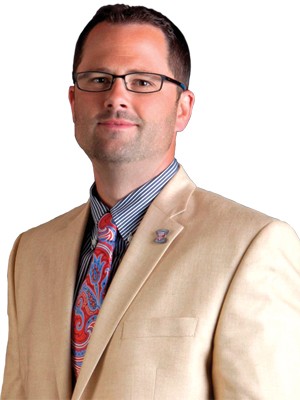 Roger Sundermeier
Vice President, Marketing Officer
First Arkansas Bank & Trust
Jacksonville
Age: 38
Roger Sundermeier
As a youngster in Jacksonville, Roger Sundermeier loved sitting on the floor doodling, especially sports logos. That early interest led to design contests in high school, where Sundermeier thrived on the competition.
"I'm just not good at anything else besides art and creativity," Sundermeier said.
He developed his talents at Delta State University of Cleveland, Mississippi, graduating in 1998 with a bachelor of fine arts degree in graphic design.
A college internship opened the doors for Sundermeier to work as a creative assistant in corporate advertising at Dillard's Inc. of Little Rock.
After a two-year stint, he went to Thoma Thoma Creative Services Inc. of Little Rock, working as associate creative director and senior designer.
Since September 2004, Sundermeier has supervised and managed the in-house agency for First Arkansas Bank & Trust of Jacksonville, where he has continued his award-winning ways.
His civic resume includes service as vice chairman of the Jacksonville Chamber of Commerce, president of the Jacksonville Lions Club, executive board member of the Little Rock Air Force Base Community Council and founding year member of Jacksonville Lighthouse Charter School Board of Directors.