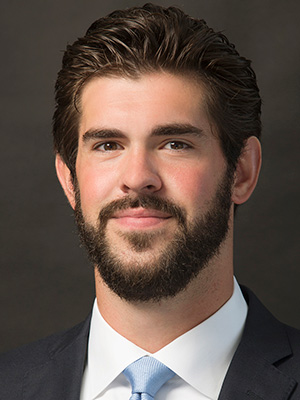 Taylor Stockemer
Attorney
Friday Eldredge & Clark LLP
Little Rock
Age: 29
Taylor Stockemer
Taylor Stockemer graduated from Arkansas State University in Jonesboro with a bachelor's degree in economics and the A-State football career record for receiving yards.
He went on to earn his master's degree in business administration followed by a juris doctorate from the University of Arkansas at Little Rock Bowen School of Law. While he earned his law degree, Stockemer worked at Crews & Associates by day and attended classes in the evening.
Stockemer is continually looking for opportunities to invest back into the community through his career. He played a role in a recent $70 million investment in the peanut industry in northeast Arkansas that will create more than 125 jobs. And because of his experience with athletics, Stockemer uses sports as a way to mentor youth. He is a volunteer coach for the fifth- and sixth-grade football team at Little Rock Christian Academy and helped with the Little Rock DC Wonder Woman run.
Stockemer lives by the same wisdom that he imparts to those whom he mentors: "Never stop learning. Discover a path that you may be opposed to or may not be comfortable with, because you might end up in a different scenario than you ever thought you would be in and enjoy it a lot."