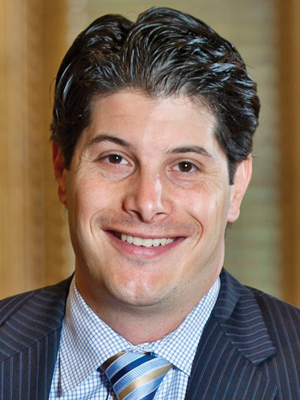 J.R. Carroll
Partner
Kutak Rock LLP
Fayetteville
Age: 36
J.R. Carroll
Working as a partner in Kutak Rock's Fayetteville office is more than enough to keep J.R. Carroll busy.
Carroll specializes in commercial transactions that have led to litigation, and he represents manufacturers and dealers involved in product liability cases. His notable clients include Kubota Tractor Corp., Simmons National Bank and Signature Bank of Arkansas. It's fitting work for somebody who earned an accounting degree from the University of Arkansas but passed on the CPA exam in favor of attending law school.
As if that weren't enough, Carroll became — almost by accident — a certified NFL agent with multiple clients. Carroll became acquainted with the family of former Razorback and current New England Patriots quarterback Ryan Mallett through a mutual friend. They viewed his background in accounting and law as helpful in protecting Mallett financially.
Recommendations from Mallett led to Cobi Hamilton (Cincinnati Bengals), Ross Rasner (Denver Broncos) and Markell Carter (Calgary Stampeders of the CFL) hiring Carroll. Carroll's main focus with players is any legal agreements they might sign — NFL teams, endorsement deals — during their careers. He represents the players alongside established sports agencies like Athletes First, which handles NFL draft preparation.
"These 19- and 20-year-old guys need more advice and more protection than anyone else I could represent," Carroll said.
Carroll, who grew up in White Hall, has no plans to recruit more clients. He would like litigation work to remain about 80 to 90 percent of his focus.