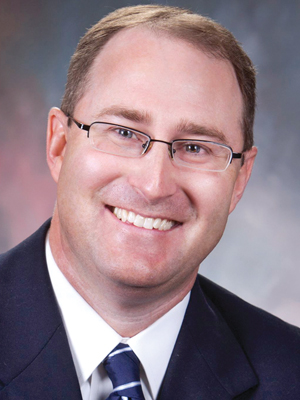 Drew Chandler
CFO
Farmers Bank & Trust
Magnolia
Age: 34
Drew Chandler
Drew Chandler's decision to go to college in Searcy kept him from going back home to Dallas.
"I married a Searcy girl," he explains. After graduating from Harding University in 2001, "I was going to work for a public accounting firm in Dallas, but could see it in her eyes — going to a big city."
He joined Reynie Rutledge's First Security Bank in Searcy and spent 10 years moving up through the accounting ranks and getting experience with regulatory requirements and mergers.
In 2011, he became the chief financial officer of Farmers Bank & Trust in Magnolia, the 14th-largest bank in Arkansas by assets.
"The biggest difference was going from central Arkansas to southern Arkansas," he said. "The type of loans you're making are more community-oriented. But I think they are both very well-run banks."
Chandler is a fan of both Rutledge and his boss at FB&T, Bob Burns. "You have to work for people you trust and admire," he said.
Still, the executive he most admires was his father's boss for 30 years — Dave Thomas, founder of The Wendy's Co., an adopted child who never finished high school.
"He didn't forget where he came from," Chandler said. "I remember as a kid having Christmas parties at the Wendy's headquarters and him dressing up as Santa and giving presents to the kids."
Chandler now lives in Texarkana, halfway between Dallas and Searcy. "I've got season tickets for the Cowboys and it's a lot easier to just drive three hours for that."