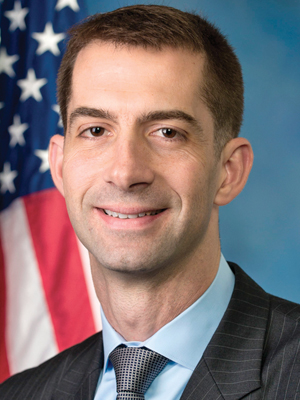 Tom Cotton
U.S. Representative
4th Congressional District
Dardanelle
Age: 35
Tom Cotton
Service has been a way of life for Tom Cotton for years.
Cotton, a freshman in the U.S. House of Representatives, was introduced to the concept as a child on his parents' farm in Yell County. He would give up his own comfort — and sometimes sleep — to help care for the family's cattle. After graduating from Harvard and Harvard Law, he felt compelled to put his career on hold and enter the Army because of 9/11. Now he serves Arkansas' 4th District in Washington, D.C., winning office on his first attempt.
Cotton's responsibilities have grown considerably since he was in elementary school caring for cattle, but the lessons learned then helped shape him today. "I would frequently curse under my breath as a young man because it didn't matter if it was cold or snowy or icy, you were caring for them," Cotton says. "My father really taught me the value and reward of serving something other than yourself."
That approach was further ingrained during Cotton's time in Iraq and Afghanistan. He turned down a chance to work as a military attorney and instead went into combat.
Cotton served five years, then spent 2010 working as a consultant for McKinsey & Co. He returned to Arkansas in 2011 for the campaign that netted him a spot in the House and led to Politico naming him "most likely to succeed" among freshmen representatives. Cotton currently serves on the Foreign Affairs and Financial Services committees.