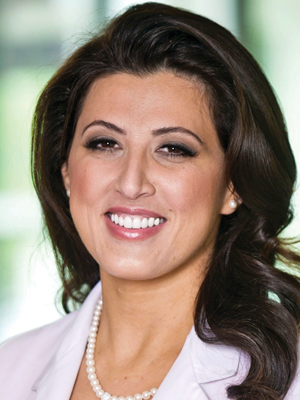 Janette Nesheiwat
Physician/Entrepreneur
Springdale
Age: 36
Janette Nesheiwat
Dr. Janette Nesheiwat divides her time among many different pursuits. International relief efforts. Television appearances. Volunteer work with the Red Cross. Practicing medicine.
Varied as it might all seem to be, it all ultimately comes down to two things: changing and saving lives.
Nesheiwat might be most recognizable to northwest Arkansas residents as the former host of "Family Health Today" on Jones TV. She still serves as a medical expert for local news segments, covering topics from diabetes to cancer to healthy eating.
But it's Nesheiwat's work off camera that's had the most impact. And she is making a difference not just in northwest Arkansas. In addition to serving local patients, Nesheiwat has helped relief efforts in Haiti. She was part of a group, including her brother-in-law Scott Stapp (lead singer of the band Creed), that helped deliver two tons of medical supplies to Haiti in 2010 after a massive earthquake.
Nesheiwat grew up in Florida but did her residency in northwest Arkansas and remained there after "falling in love" with the region. She counts her mother, who balanced raising five children with her job as a registered nurse, as her biggest influence.
"I give a lot of credit to her and how she not only loved and cared for us, but gave her love and care to the community."