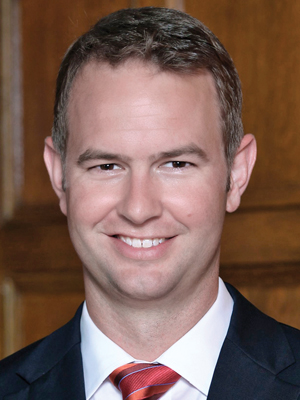 Andrew Parker
Director of Governmental Affairs
Arkansas State Chamber of Commerce/Associated Industries of Arkansas
Little Rock
Age: 36
Andrew Parker
Andrew Parker's career is back where it started, only better.
The Little Rock native graduated from Arkansas State University in 2001 with a degree in finance and quickly discovered that he didn't want to sell financial products. He ended up in Little Rock, meeting with Ron Russell, then-president of the Arkansas State Chamber. Russell connected him with Mike Beebe, then a state senator, who hired Parker as a personal aide for his campaign for state attorney general.
Parker went on to work for Beebe as a public affairs officer in the Attorney General's Office and then as an aide during Beebe's gubernatorial campaign. Parker also took night law classes at the University of Arkansas at Little Rock.
Parker continued to work under Beebe in the Governor's Office, eventually becoming regulatory counsel for the Oil & Gas Commission. Oil & Gas ended up with a diminishing workload that wasn't "quite enough excitement," Parker said.
In 2012, Parker went back to the chamber, this time to work as a director of governmental affairs. Parker now makes speeches across the state, educates other chambers on legislative issues and advocates for legislation that the chamber supports.