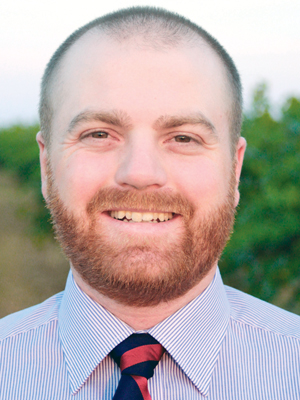 Luke Holcombe
Head Winemaker
Post Familie Vineyards & Winery
Altus
Age: 29
Luke Holcombe
Luke Holcombe, born in Tulsa and raised in Modesto, Calif., found himself attracted to the wine and viticulture program at California Polytechnic State University in San Luis Obispo, a program that seeks to prepare students for careers in the wine business. Deciding "to be a nerd in how to make wine," in 2007 he earned a degree in wine and viticulture with a concentration in enology, the science of winemaking.
In 2006, Cal Poly, which has its own vineyards, decided to release a line of commercially produced Cal Poly-branded wines. The school chose Holcombe and anoth- er student to serve as winemakers for that debut vintage. After graduation, he landed a job as assistant winemaker at McManis Family Vineyards, a large California winery producing about 5 million gallons a year.
But Holcombe wanted to try living outside of California, so he researched areas of the U.S. that had wineries that matched his skill set: large production winemaking.
"Post wanted to grow, wanted to bring their production capabilities and technolo- gies into the next century," Holcombe says, "and Arkansas fit my idea of a place where I wanted to put down roots."
He came to Post in 2010, and he is working "to expand the marketplace. I want to develop products that appeal to a larger consumer base."
Ultimately, Holcombe says, "I would love for people in the wine industry to look at Arkansas and the Midwest and say, 'Hey, there are some great wines coming out of that area' and put them on the map."