Commit this to memory so you can stop being surprised: Wherever there are human beings, there will be waste, fraud and abuse.
This is true in government, true in private industry, true in charities, true in churches and true in families. And you know it's true when a whole lot of money is being spread around in a short period, as with the Paycheck Protection Program.
I feel sure that most Arkansas Business readers know that the PPP was a huge part of the emergency stimulus package that Congress approved back in March, when the economic damage of the coronavirus pandemic was becoming undeniable. Guaranteed by the Small Business Administration, the loans were designed to cover payroll and other basic business expenses for a couple of months and will be forgiven if used for those purposes.
With the help of practically every commercial bank in the country, the SBA approved as many loans in 14 days as it normally would in 14 years — almost $350 billion in the first round of PPP that started April 3. You know what haste makes, right?
By the end of those first two weeks of PPP loan applications and approvals, the Office of the Comptroller of the Currency, the primary regulator of national bank charters, was asking lenders to help brainstorm ways to spot fraud.
And there seems to have been plenty to spot. By May 5, when federal prosecutors in Rhode Island brought the first criminal case related to PPP fraud, the U.S. Department of Justice confirmed that it was investigating suspicious loan applications all across the country.
The first defendants allegedly applied for more than $500,000 in PPP loans for businesses that didn't exist, which seems to have been a common scheme. Some of the fraudsters were luckier than the two men charged in Rhode Island, whose loan applications were not approved.
For instance, the first PPP fraud indictment brought by a federal grand jury in Arkansas alleges that Ganell Tubbs of Little Rock received nearly $2 million from out-of-state banks for two defunct businesses that she claimed employed some 250 workers. Instead of payroll, Tubbs allegedly started spending the money on things like student loan payments and an online shopping spree.
Tubbs is scheduled for trial in January.
A Benton County man has already pleaded guilty to PPP fraud in Oklahoma. Benjamin Hayford, 32, admitted last month that he sought $8 million from multiple banks by claiming fictitious payroll expenses and submitting fraudulent documentation. He'll be sentenced in November.
As of last week, more than 40 cases of fraud against the PPP and other pandemic relief programs were being prosecuted, and the SBA's inspector general's office told Politico it had "initiated hundreds of cases involving potential fraud."
A Sept. 1 report by Democrats on the congressional Select Subcommittee on the Coronavirus Crisis flagged $3 billion in loans to 11,000 businesses because information in their PPP applications doesn't match information in other government data. Sloppy paperwork or fraud? Undoubtedly some of both.
Last week, the Miami Herald reported that, with the help of a nonprofit called the Anti-Corruption Data Collective, it had identified more than 75 businesses that received PPP loans totaling at least $20 million that "don't appear to have existed before this spring or to have met other eligibility criteria." (One Texas man is connected to five of the companies, including "a suspicious online university whose curriculum appears to be cut and pasted from a European school." Together, the five businesses received at least $3.65 million in PPP money.)
As is all too common with fraud against government safety net programs, providers may also be in on the action. Last week, CBS Moneywatch reported that executives at JPMorgan Chase, the largest bank in the country, suspected that some employees had engaged in "conduct that does not live up to our business and ethical principles — and may even be illegal." (A suit filed in April alleges that Chase prioritized the largest PPP loans in order to maximize origination fees, but it's not clear if that's what an internal memo was referring to.)
Wells Fargo, the No. 3 bank, disclosed in May that its PPP lending practices were also being investigated by federal and state authorities.
I'm not sure how to feel about the fact that so much fraud seems to have been detected so quickly. Does it mean that the detection systems are actually pretty good? Or is this just the tip of the iceberg? And I wonder how much we taxpayers will have to borrow to prosecute and punish all these crooks?
---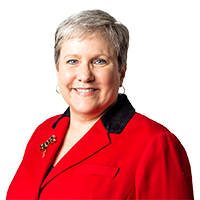 Gwen Moritz is the editor of Arkansas Business.