When it comes to traditional, conservative values, personal and political, my brother takes a back seat to no one. He left Arkansas 47 years ago, briefly for Texas and then for Tennessee, and has never been tempted to come back home like his baby sister and so many others. State income taxes, you know.
I got a text message from him last week: "I hear Arkansas is seeing more COVID cases. Is that exaggerated news reports or truth?"
I responded with a telephone call. This topic required more words than I have patience to peck out on my cellphone — especially the idea that news reports about COVID might be exaggerated. I know of no news source that is reporting any state-level COVID statistics other than those provided by the Arkansas Department of Health, an agency that reports directly to Gov. Asa Hutchinson.
(Yes, hospitals get a bigger Medicare reimbursement for documented COVID cases, which has made some people eager to believe that COVID diagnoses have been inflated by greedy health care professionals. But if COVID isn't to blame, something else caused 15% more deaths in the United States in 2020, and something else is filling ICU beds in Arkansas to a level not seen in months.)
Tennessee's vaccination rate is similar to Arkansas' — only about a third of us are fully vaccinated — and yet as of this writing, Tennessee has not seen the spike in new cases, hospitalizations or deaths that our state has suffered. As of last Wednesday, the day my brother and I spoke, Tennessee was reporting a third as many new cases per day despite having more than twice Arkansas' population. Our mutual neighbors, Missouri and Mississippi, are also undervaccinated and suffering from worrisome spikes, but neither has seen as many new cases per capita as Arkansas.
Clearly something has gone wrong, especially in Arkansas but also elsewhere in our region. And last week, Dr. Greg Bledsoe, the state's surgeon general and Republican candidate for lieutenant governor, took to Twitter to make sure we all know who is to blame for this failure in public health outcomes among conservatives in conservative states: liberals.
If I understand Bledsoe's tweets correctly, "the left" is responsible for "normal" Americans (which he helpfully defined as people with "non-progressive" opinions) mistrusting factual information about COVID and vaccines coming from government (including the one he's part of), "the media" and academia. He made clear that he wasn't blaming anyone in Arkansas specifically for making Arkansans reject lifesaving science; instead, he blamed "academia in general" and "national medical associations" who "have been aggressively adversarial towards conservative perspectives, especially on issues like the 2nd Amendment, abortion, etc."
If he offered up evidence to support his conclusion, I missed it, and the polls and surveys I've seen on vaccine hesitancy haven't drilled down into which leftist institutions have made conservatives distrust even the conservative governments that they have elected to run states like ours. (They do reflect what Bledsoe said the data show: "conservative, red state voters are not getting vaccinated.")
But it's notable that some states led by Republicans have not had lifesaving messages drowned out by mistrust of liberals. The Republican governor of bright-red Utah announced that 70% of his state's adults had at least one shot by July 4, and then sheepishly had to back that down to 67% — still a success rate that Arkansas, Mississippi, Missouri and Tennessee can only dream of. (Arkansas' comparable figure at this writing is 43%.)
Almost as notable as who Bledsoe blames for conservative vaccine hesitancy is who he never mentions as being any part of the problem: fellow conservatives who are actively sowing fear and doubt in direct opposition to Bledsoe's message. Maybe Bledsoe is fine with Fox News talking head Tucker Carlson telling his conservative audience, "Maybe [the vaccine] doesn't work, and they're simply not telling you that." Maybe he's fine with Newsmax host Rob Schmitt suggesting that vaccines go "against nature." Or maybe he wishes they would shut up but can't take the political risk of suggesting publicly that anyone but liberals shares any of the deadly blame.
For what it's worth, my brother dismissed partisan politics as the reason for vaccine rejection. He thinks it's no coincidence that the states with low vaccination rates are also the ones with less educational achievement. And since he spent five days in the hospital with COVID last fall, followed by weeks on supplemental oxygen, I'll tell you what else he said:
"I would be happy to take a third shot if that's what it takes not to get it again."
---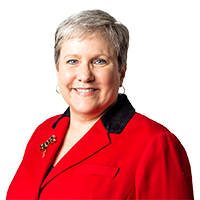 Gwen Moritz is the editor of Arkansas Business.