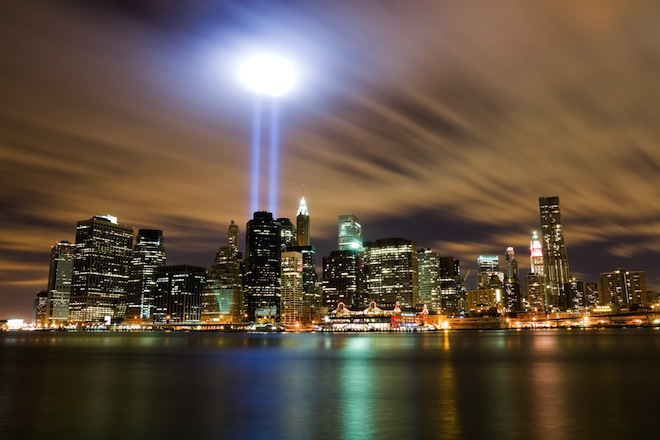 A memorial for the Twin Towers in New York City.
It was just another Tuesday morning. Until it wasn't.
On the 17th anniversary of the Sept. 11 terrorist attacks, we've provided links to some of ArkansasBusiness.com's breaking news coverage. We've also included some stories in the days that followed, and some items from our print edition.
Sept. 11, 2001
Employees Evacuate Little Rock Office Buildings After Terrorist Attacks - "The Little Rock National Airport and the Northwest Arkansas Regional Airport closed Tuesday after two airplanes crashed into the World Trade Center in New York City and another airplane crashed into the Pentagon in Washington, D.C."
Airports Close, Federal Buildings Empty After East Coast Terrorist Attacks - "When asked whether security had been heightened at XNA, Van Laningham said, 'I can't talk about security at all.'"
Little Rock Air Force Base at Highest Security - "The U.S. Air Force headquarters ordered the Force Protection Condition Delta, which applies in the immediate area where a terrorist attack has occurred or when information has been received that terrorist action is likely."
Huckabee to Address the State at 8:30 p.m. - "The governor is returning from the canceled Southern Governors' Association meeting in Lexington, Ky., and is expected to be back in the state by no later than 5 p.m."
Greenwood and Party Safe, Awaiting Charter Home - "Mary Ann Greenwood, the prominent Fayetteville investment adviser, and a team from her firm, Greenwood & Associates, were inside the World Trade Center this morning when terrorists flew a hijacked passenger plane into one of its towers."
McLarty Compares Attack to Pearl Harbor Bombing - "I don't think any of us have ever seen [anything like this] except in a Bruce Willis action movie."
Airline Expects 1,000 Stranded; Workers Evacuate LR Buildings - "The closing of the Little Rock National Airport is expected to flood area hotels, and downtown Little Rock office building managers scrambled to weigh evacuation options as a precautionary measure."
Financial Markets, Airspace Closed Wednesday - "Also late Tuesday, the Federal Aviation Administration said U.S. air space will be closed at least until noon Wednesday."
Governor Urges Freeze As Gas Prices Rise - "I call upon them to voluntarily institute a freeze on the price of gas. Sharp increases in gas prices aren't in the best interest of the people of Arkansas, who still must get to work and school."
Huckabee Offers Help, Warns Against Price Gouging - The complete text of Gov. Mike Huckabee's address to Arkansans that Tuesday night.
Sept. 14, 2001
Stephens In Memo: Rough Monday Possible, But Spending Should Help - "My econ 101 book (which I still have) makes it clear that in times of economic slowdowns, fiscal stimulus (i.e. government spending) as well as monetary policy (lower rates, more money in the system) is what the government is supposed to do," Warren Stephens wrote.
Sept. 17, 2001
Market May Dip After Attacks, But Recovery Should Be Quick - "If you think the end of the world is coming, Wal-Mart will be glad to sell you what you want," Lee said. "It will actually be positive instead of negative for them."
Sept. 21, 2001
Bush to Congress: Justice Will Be Done - The complete text of President Bush's address to a joint session of Congress on Thursday night, September 20, 2001.
Tyson, IBP Merger to Close As Scheduled - "Tyson Foods Inc. of Springdale has said it expects to complete its buy of beef and pork processor IBP Inc. of Dakota Dunes, S.D., as scheduled in late September despite terrorist attacks on Washington, D.C., and New York."
Sept. 24, 2001
A Year From Now? (Karrh On Marketing) - "Those towers, 100-plus stories of glorious excess, symbolized American economic power. Maybe it was the stunning view that night that convinced this small-town Southern boy New York City was worth a shot (at least for a time). Those towers said New York and America were big, proud, strong and about as permanent as you could get."
Sept. 25, 2001
Acxiom Develops Security Product for Airlines - "Acxiom said it is developing an identity verification system to help airlines validate passengers' personal information. The checks could take place in real time as passengers buy airline tickets and check in at airports, the company said."