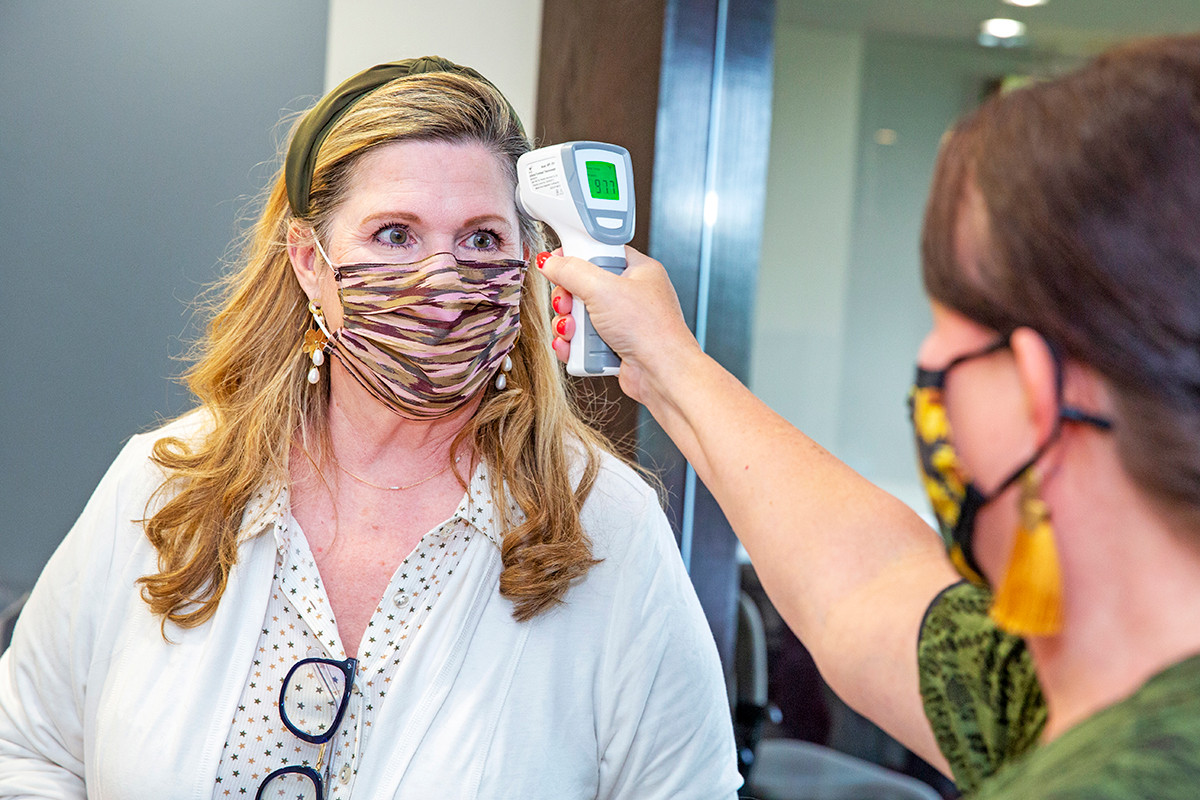 The COVID-induced surge in working from home has posed a potential paradigm shift to the market for office space, along with the rollout of antivirus amenities.
But an increase in remote work may not mean a decline in future demand for square footage even if the pandemic brings lasting change.
The phenomenon could set the stage for a less-is-more trend where fewer in-office employees per SF could translate into more office space.
"On the one hand, there's no doubt that people are getting more oriented to work at home," said Hank Kelley, CEO of Little Rock's Kelley Commercial Partners. "But we're also seeing the other side where businesses are wanting to spread out more.
"I can't tell you what the impact will be. We're too early in the landlord-tenant cycle to know which of those companies may want to retain part of the workforce in a remote situation. The pandemic has caused us all to grow in our technological education to work more mobilely and more remotely."
Expectations of lower employee density in the office and higher headcounts of remote workers are molding a new world view where today's common ratio of one office staffer per 200 SF or less morphs into one per 400 SF.
"Now, you're going to see people have to be 6, 10 feet apart," said Kevin Huchingson, chairman and CEO of Colliers International Arkansas. "We're not seeing it yet.
"We'll continue for years to have people working in offices. People still want to have a place for people to sit and meet in the office."

Huchingson said that even in the midst of the current viral disruption, there's still a surprising level of demand and requests for tours to show office space to prospective tenants.
"New projects are definitely going forward, but some are re-evaluating space demands and headcounts," said John Martin, principal and vice president of commercial brokerage in the Little Rock office of Newmark Moses Tucker Partners. "All of that is good. Our outlook is still bullish for the need for office space.
"The first three weeks, everyone was in bunker mode. But after the first month, things seemed to reactivate, and there was a return to a normal stream of people looking at property."
Push on Pricing
Martin said some prospects looking to buy or rent office space were pressing hard in the belief that pricing should reflect market stress, although that notion isn't accurate.
"The economics of a deal still have to make sense," he said. "Owners who invest in their property and are responsive win business."
Kelley said that more than a few owners have tapped into an incredible interest rate environment to upgrade and better position their properties to attract business.
Those same low interest rates are prompting businesses that were in a holding pattern of wait-and-see before March to start expansions backed with inexpensive debt.
"The economy has shown a lot of resilience," Kelley said. "The day-to-day reality is: All is not doom and gloom."
He said office traffic has ebbed and flowed with differing levels of COVID concern during the past four months.
"We're seeing a return of traffic to the buildings," Kelley said. "The reality of it is a lot of our office users are back in their offices, maybe only on a rotating basis. Everyone is well aware of not over-occupying space. It's something you can't take for granted."
A common tactic of businesses these days is to deploy a mixture of remote workers and rotating in-office staff.
"Companies are looking at their space layouts and looking to configure, whether to add more space or not," Kelley said. "We fundamentally believe that when people are able to return to normal work environments, that the ability to walk in and talk with a co-worker is going to win the day. In-person interaction and collaboration remain important."
Property managers ramped up for the challenges of safeguarding space against the spread of COVID-19.
"We've worked harder in our jobs and in our profession starting in March," Kelley said. "Cleaning is done twice as much. We've always managed clean buildings, but we're redefining what clean is. Clean, efficient and reliable: That's the mantra."