The word is getting around that I'm going to be leaving the editorship of Arkansas Business later this year, exact date to be determined. This is something I had long intended to do at the end of 2020 — 59½ is a magical age — but the pandemic seemed a less than ideal time to make the change, both for me and the company that I love so much.
I am not leaving Arkansas Business Publishing Group; I'm going to take on some other projects for Publisher Mitch Bettis, exact details still to be determined. And there are other interests I'd like to pursue, including financial literacy. I also intend to spend more time on Greers Ferry Lake with my patient husband, whose life rhythm has also revolved around Arkansas Business' Thursday press run for 22 years.
Being able to manage the last stage of my career in journalism is a blessing I don't take lightly. Thousands — tens of thousands — of journalists in this country and around the world have not had that luxury, a fact little appreciated by the public that may mistake the explosion of media outlets for an explosion of journalism. In fact, watching too many young, talented, energetic journalists forced out of the industry and into second-choice careers created in me a determination not to be one of the old geezers who hang on too long.
Someone else — identity still to be determined — deserves the same opportunity at the truly great job and constant professional challenge that I was given in 1999. And it really was given to me; I was recruited by then-Publisher Jeff Hankins, with whom I had worked at the Pine Bluff Commercial and attended church in the early 1980s. We stayed in touch, and he knew that I had editing experience and experience as a reporter for a similar business journal in Nashville, Tennessee. But I had not been in a newsroom for five years, so I can't imagine that anyone who didn't already know me and my skills personally would ever have considered me for this job. The personal connection balanced out my imperfect resume, and the risk paid off on both sides.
The advantage — often unfair and often unappreciated — of personal and professional networking is something I've written about in this space in the past. In 2013, for instance, I quoted Nancy DiTomaso, a Rutgers University business professor who has written extensively on networking as a tool of racial disparity in the workplace:
"When I asked my interviewees what most contributed to their level of career success, they usually discussed how hard they had worked and how uncertain the outcomes were — not the help they had received throughout their lives to gain most of their jobs. In fact, only 14 percent mentioned that they had received help of any kind from others."
I thought of DiTomaso's statistic last week when Meghan McCain, a panelist on ABC's 24-year-old talk show "The View," made a particularly tone-deaf comment in the wake of the spree killing at Asian spas near Atlanta:
"We've only had one Asian American host co-host this show. So does that mean one of us should be leaving at some point because there's not enough representation? We're talking about, 'Is identity politics more important than the qualifications of the job?' — and I think that's a question going forward that the progressive left is going to have to reconcile."
Qualifications? Would McCain's qualifications have brought her to national prominence if her father had been a plumber named John McCain rather than the former U.S. senator and Repubican nominee for president? I don't resent her using her advantages, but she's clearly in the 86% who completely forgot that she had an enormous head start while worrying that an under-represented minority might get a similar opportunity.
Contrast McCain with Ryan Lowry, a 20-year-old in Virginian with autism. As CNN reported earlier this month, Lowry posted a handwritten letter to potential employers on LinkedIn:
"I realize that someone like you will have to take a chance on me, I don't learn like typical people do. I would need a mentor to teach me, but I learn quickly, once you explain it, I get it. I promise that if you hire me and teach me, you'll be glad that you did. I will show up every day, do what you tell me to do, and work really hard."
Most readers of Arkansas Business are in a position to influence hiring decisions, so you already know that hiring anyone is taking a chance. The perfect candidate on paper can let you down, and the riskiest hires can sometimes deliver the biggest rewards. (Or at least hang around for a couple of decades.)
And you probably won't be surprised to hear that Ryan Lowry's heartfelt plea for a chance to prove himself resulted in multiple job offers.
---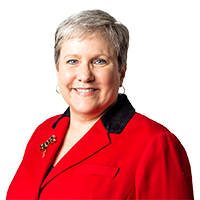 Gwen Moritz is the editor of Arkansas Business.