West Memphis can take a punch.
When the Interstate 40 bridge that connects Memphis with West Memphis closed down May 11 for safety repairs, the effects were felt immediately. The six-lane bridge, formally known as the Hernando de Soto Bridge but called the "new bridge" by locals, is a vital link in the national interstate system since I-40 runs from North Carolina to California and approximately 40,000 vehicles crossed the bridge daily.
On the local level, the bridge is a connection between the big-city economy of Memphis and the satellite communities across the river.
With the new bridge closed for what may be months more, most traffic has diverted to the "old bridge," the four-lane Interstate 55 bridge that normally handles about 45,000 vehicles daily but now has to take essentially all of the cross-river traffic.
In the early days after the bridge closing, many who live in Memphis but work and shop in West Memphis — and vice versa — witnessed major disruptions for businesses near the bridge. Other businesses that had employees living in or supplies coming from Tennessee also experienced interruptions in the flow of commerce.
"A large part of downtown Memphis came to West Memphis to do their shopping at Walmart or Kroger's or Chick-fil-A or enjoy our nightlife at Southland Casino," said West Memphis Mayor Marco McClendon. "With the bridge being closed down, that's a hindrance for people coming. We can tell that all businesses have suffered some kind of impact."
McClendon said his town of approximately 25,000 has "probably" lost about $1.5 million in tax revenue. The bridge closure impact is still not as dire as the effects of the COVID-19 pandemic, which severely curtailed visitors to the casino. McClendon said West Memphis had received about $1 million in tax revenue every month from Southland before the pandemic. Casino officials did not respond to an interview request.
"Since COVID, it has been one thing after another," said Emily Scarbrough, the executive director of the West Memphis Chamber of Commerce. "We have learned how to fly by the seat of our pants."

Short-Term Hassle
The good news is that West Memphis, the surrounding communities and its people have adapted to the logistical nightmare.
While repairs on the bridge continue — officials are reluctant to put a hard timeline on reopening — the Arkansas and Tennessee departments of transportation have worked to make the I-55 commute as fluid as possible. That's no easy task with 80,000 vehicles now needing to traverse the four-lane, 72-year-old bridge.
City officials don't expect any long-term effects from the bridge closure, and some short-term effects have been positive in a way. Hotel occupancy in West Memphis is high, and the theory is that travelers are deciding to stop for the night before tackling the traffic across the river in the morning.
Jim Jackson, the director of tourism for West Memphis, said his daughter lives in Tennessee and tried to drive over for a visit, which is normally a 30-minute trip, but after four hours she was able to make it only 5 miles from her home. She turned around and went home, saving a visit for another day.
"It's a pain in the ass is what it is," Jackson said.
The bridge headache isn't having much of an effect on the city's economic development efforts. Those interested in opening a business or relocating a facility in West Memphis aren't letting a few months of gridlock scare them off.
"Everyone recognizes at some point in time, hopefully sooner rather than later, the bridge will be reopened and the inconvenience that has been caused by the last few months will go away," said Phillip Sorrell, the city's director of economic development. "It hasn't hurt our ability prospecting for new businesses at this point in time. We are not seeing any slowdown in activity."
The same can't be said for Barton's Lumber, which has two locations in West Memphis but many vendors in Memphis. One Barton's location is near the river and when traffic was at its worst, the facility was all but unreachable; trucks stopped making deliveries for a time.
"We took a hit last month," Jason Long, manager of the Barton's Lumber store west of the intersection of I-40 and I-55, said in late June. "It hit us pretty good."
"A large part of downtown Memphis came to West Memphis to do their shopping at Walmart or Kroger's or Chick-fil-A or enjoy our nightlife at Southland Casino. With the bridge being closed down, that's a hindrance for people coming. We can tell that all businesses have suffered some kind of impact."

– MARCO McCLENDON
Mayor of West Memphis

'We Are Pretty Resilient'
Officials and business leaders say the gridlock has improved greatly in the past couple of weeks. The Tennessee Department of Transportation did some creative lane management on its side of the river on I-55, improving the commute time.
That is a better trend than earlier when truck drivers using Google recommendations to avoid traffic delays were sent through West Memphis residential streets. Streets meant for passenger cars and with children playing on the sidewalks were clogged with miles-long convoys of 18-wheelers.
McClendon, the mayor, said the increased traffic through city streets will cause more infrastructure damage to streets already in need of repair. He is hopeful the state government will give West Memphis some emergency aid, but said the situation shows the need for infrastructure funding.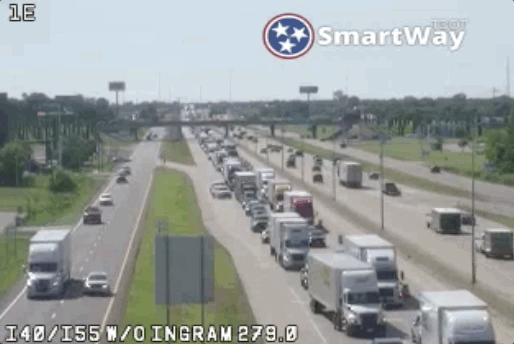 Traffic on Interstate 40 slowly rolls east through West Memphis on July 2. (TDOT)
"We were a city that was doing a lot of big things and COVID came and hit us," McClendon said. "We thought we were making our way out of COVID just to be hit with the bridge closing. It was back to back; sometimes blows like that are hard to get up from."
Scarbrough, with the chamber of commerce, said she has appreciated how the city has pulled together during the pain caused by the closure. At one point, officials closed exit ramps in an attempt to keep traffic moving on the interstate; the effect was "one horrible day" because it shut down businesses along the interstate.
A couple of companies had job fairs planned, but those have been postponed because of the traffic concerns. Some West Memphis shoppers and businesses have also found it more convenient to drive 60 miles to Jonesboro for goods.
"We are pretty resilient," Scarbrough said. "We buckle down and support our own when we need to."
Long said the adjustments that have been made by the transportation departments have made the situation manageable.
"The past week and a half it has been pretty smooth sailing on this side," Long said.
Smooth sailing aside, the cities on both sides of the river are eager for the repairs to the bridge to be completed.
"We will be ready for it to be over with," Jackson said. "We don't want them doing a half-ass job, either."