(Corrections have been made to this story. See the end of the story for more details.)
The sudden departure in April of Bobby Petrino as head coach of the University of Arkansas football team - we're assuming you heard about that - means that the price tag on the highest-paid state employee has dropped by more than half.
(View the list of the highest-paid state employees in the format of your choice (PDF | Spreadsheet). The list of the highest-paid employees of the University of Arkansas for Medical Sciences is also available in the two formats (PDF | Spreadsheet).)
Petrino had dominated the annual list of state employees ranked by total compensation for the four years that he coached the Razorbacks with seven-figure pay packages that dwarfed those of his predecessor, Houston Nutt. In fiscal 2012, which started July 1, 2011, Petrino was paid $3.6 million, and his pay this year would have been in a similar stratosphere.
But when Athletic Director Jeff Long - officially, vice chancellor of athletics and also one of the highest-paid state employees - fired Petrino for a laundry list of misdeeds revealed by a motorcycle crash, successor John L. Smith's salary came nowhere near filling the void. Instead, Mike Anderson, head coach of the Razorbacks men's basketball team, moved into the top spot with the comparatively modest pay package of $1.6 million.
Video: A Quick Overview of the Highest Paid State Employees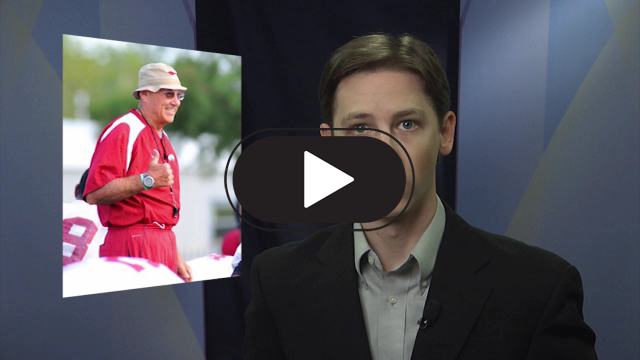 Smith, meanwhile, is being paid only about half as much as Anderson, $850,000 for what is widely expected to be his one and only season as head coach of the Razorbacks. That's a big raise from Smith's $235,000 salary last year when he was an assistant coach, and, as revealed last week, the bankrupt coach deferred most of his pay.
It also puts him just a hair behind Gus Malzahn, the head coach of the Arkansas State University Red Wolves football team. This is the first time an ASU employee has been in such rarified air.
Arkansas Business has compiled two lists of the highest-paid employees of state government for some 15 years. One list is dedicated to employees of the University of Arkansas for Medical Sciences, with its roster of highly paid medical doctors. The other includes employees from all other state agencies, including state-supported universities and the court system.
This year's published lists include 211 UAMS employees, the last two (Mohamed Kamel and Brendan Stack) tied with salaries of $265,000, and 120 other state employees, the last, UA Business Professor Gary Peters, earning $184,660.
Despite the precipitous drop in the No. 1 spot, the upward trajectory of salaries paid by the state is evident in comparisons with earlier years. In 1999, for instance, only about 70 UAMS employees were paid more than $200,000. This year, there are 390 earning $200,000 or more - and the top 70 earn $357,000 or more.
Many UAMS employees receive bonuses in addition to base salaries, but the bonuses are paid after the end of the fiscal year. To arrive at a total compensation figure, Arkansas Business adds base salary for the current fiscal year (2013) with the actual bonus paid for the fiscal year that ended June 30.
In 1999, fewer than 100 employees elsewhere in state government earned more than $100,000. This year, 96 are earning at least $200,000.
Footnotes Galore
After a 2008 compensation scandal involving Lu Hardin, then president of the University of Central Arkansas, the Arkansas Department of Higher Education began compiling detailed compensation data on certain highly paid college and university employees.
The detailed reports reveal that, in some cases, salary can represent less than half of an employee's total compensation, making rankings more accurate.
But transparency can be complicated. The most recent detailed reports are for the 2012 fiscal year that ended on June 30. Arkansas Business has elected to rank the presidents and chancellors of state-supported colleges and universities as well as athletic department employees by the total compensation included in the detailed reports, which may include nontaxable benefits that are also paid to other state employees. For many of these state employees, base salary information for 2013 is detailed in a footnote.
For most employees, the salary figures are for the current fiscal year.
(Correction: Oct. 17, 2012: A paragraph describing University of Arkansas Chancellor G. David Gearhart as the third-highest paid state employee has been removed from this article. The UA says it incorrectly included $294,323 that it called deferred compensation in its report on Gearhart's salary filed with the Arkansas Department of Higher Education. Without that payment, Gearhart's total compensation package for 2012 was $588,330, putting him at No. 9 among all state employees. Also, incorrect information on the state's new financial transparency website resulted in three names being included in the list of 120 non-UAMS employees. Their removal makes UA Professor Gary Peters the final name among the 120, a change from the original article.)