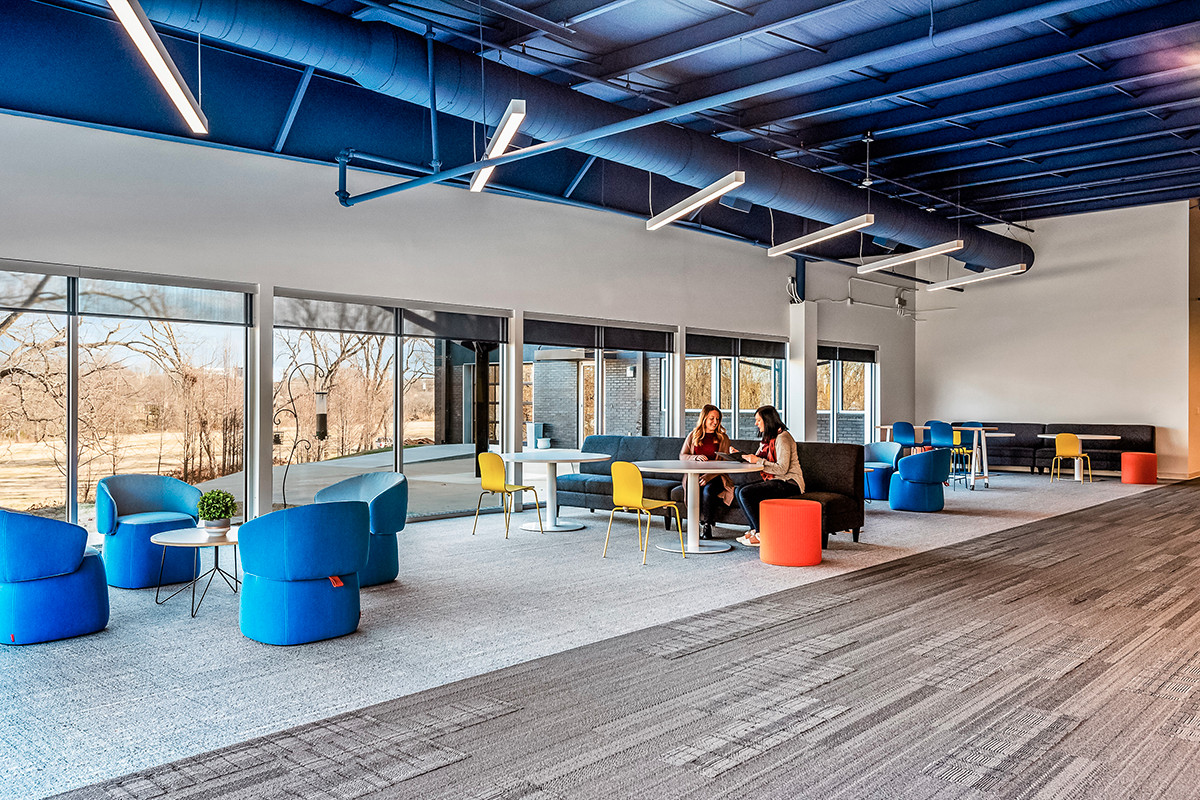 Arkansas designers, architects and real estate developers are envisioning the office layout post-pandemic, and what they see isn't too far removed from the status quo.
The open office has been popular for the past few decades. It's a plan that lets workers mingle and collaborate easily without walls or cubicles in the way. Research has shown that approximately 70% of offices have an open floor plan.
Think of the paper company lampooned in the television show "The Office." The boss had his own glassed-in office and there was a meeting room, but most of the employees occupied one large room with little between them except perhaps a framed photograph and a cup of pens. And not just because it made it easier to film the television show. For many employees in America, that was their office environment, hopefully with a more competent supervisor than Michael Scott.
That, however, was before the coronavirus pandemic sent many workers home to work remotely in an effort to avoid the spread of the pathogen. But what about when office workers return to work? What will that look like?
"I think there will be some fundamental long-term changes, but I also don't think it is going to be as extreme as some people think as far as square footage requirements going way down," said Marshall Saviers, president of the commercial real estate firm Cushman & Wakefield/Sage Partners in Rogers.
Saviers said adjustments undoubtedly will be made to office layouts but those changes involve more of an alteration in spacing. The workspace will still be open, but fewer employees will occupy it, in part because companies have learned the benefits and flexibility provided by employees working from home.
"Companies are wanting more collaborative areas and private rooms for phone calls, having the desks more spaced out and not being quite as dense," Saviers said. "You might have the same amount of square footage; it just might look vastly different."

Material Matters
Work hasn't slowed down for Katie Baldwin, a senior interior designer at Core Architects in Rogers.
Baldwin, who used to work in health care interior design, knows more than a thing or two about clean spaces. The pandemic certainly brought cleanliness to the forefront of her job.
When Baldwin meets with clients to discuss their office layout, she is all about material. Most business executives don't know much about carpet fiber or furniture surfaces, so Baldwin gives a crash course on their importance.
"A lot of people are moving forward with projects and thinking about it in the old way, 'Oh, we are going to get over this and go back to normal,'" Baldwin said. "I think what we are going to realize is that there is not going to be the same normal for quite a long time. Specifying materials that are really durable and really cleanable is going to be really important.
"You want everything to be cleanable anyway so people are ultimately healthy in the building. You want to make sure you are picking materials and finishes that can be cleaned with bleach. A lot of companies want to go with the cheapest, which isn't always the best material quality. You want to make sure it can hold up to rigorous use and cleaning."
Saviers said those are good fundamentals that should carry over post-pandemic. Even if there isn't a potentially lethal virus to fear, a healthy work environment could protect against seasonal illnesses and allergies that sap production, Saviers said.
Baldwin thinks that eventually workspaces will have a more cubicle look to them but in an open layout. She thinks in addition to employees being spread out more, there will be some type of partition between individual work areas.
"Honestly [the cubicle trend] hasn't hit yet but it will," Baldwin said. "A lot of spaces will require dividers. They may be translucent so you can still maintain that open-office feeling and see your neighbors but still be protected. A lot of furniture vendors have been reaching out with all of these solutions so that when people are ready to go back to the office, they have these panels you can clip to your existing office workspace desk and create those partitions retroactively."

Go With the Flow
Dusty Graham, the president of Core Architects, and Eric Nielsen, owner of Nielsen Architects in Bentonville, said companies aren't requesting wholesale changes in their office designs.
Nielsen said some office projects have been put on hold until a clearer economic and recovery picture emerges. Nielsen does a great deal of work with trampoline centers, which have shut down during the pandemic, but he was recently asked to design an office next to a medical clinic.
The tricky part of the design involves the client's request for just one HVAC system for both buildings, which meant Nielsen has to figure in a medical-level upgrade.
Graham said his work requests are still for open-floor layouts but with the idea that fewer people will populate the office at any given time.
"They are still going with open workspaces for collaboration purposes but spreading them out a little further," Graham said. "Going with more square footage is the trend that we have seen with individual work station areas. It has increased space for people to be able to function safely in an office.
"The main thing is the flow of how people are moving through the space has been the biggest change. One of the biggest hurdles we are trying to figure out right now is the use of elevators. It is hard to stay 6 feet apart in an elevator."
Saviers said one of the functions of the modern office is as a showpiece, which is why he doesn't expect reduction in size or in amenities. Both employees and potential clients want to see an office that seems fresh and lively.
"When people come to work after being at home, they want somewhere that feels good," Saviers said. "It's the fun house, if you will, that has all the conference rooms and training rooms, the stuff they want to show off for their clients.
"What that has led to, even in these tougher economic times, is a continued flight to quality for nicer space. That trend, much like most trends coming into the pandemic, is only going to increase coming out of it. We were seeing this six to eight months ago, and I think it is going to intensify coming out."